NIKE AIR PEGASUS 35 CONCEPT SHOWROOM SRG 2018
Space Between
35 YEARS OF FLYING.
THE HISTORY OF PEGASUS.
NAMED AFTER THE MAJESTIC WINGED HORSE IN GREEK MYTHOLOGY, PEGASUS WAS INTENDED TO REPRESENT MOVEMENT, QUICKNESS AND THE ALLURE OF FLYING ON "AIR".
WE CREATED AN IMMERSIVE ENVIRONMENT THAT SUPPORTED THE VIRTUES OF THE AIR ZOOM PEGAGUS 35 AND IT'S MERCURIAL RUNNING TECHNOLOGY AND ALLOWED THE CONSUMER TO INTERACT WITH THE PRODUCT AND THE CAMPAIGN IN A UNIQUE WAY. THROUGH 3 KEY PILLARS; INSPIRE, HELP AND GUIDE.

SERVICES
Strategy
Creative Direction
Art Direction
Graphic Design
Experience Design
Spatial Design
Motion Graphics & Animation
Build & Execution
PARTNERS
Boom Studios (Build)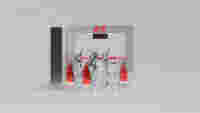 THE IDEA WAS TO CREATE A FUTURISTIC PLAYGROUND WHERE WE FUSED TECHNOLOGY WITH HUMANITY.
THE GLOSS CHROME FINISHES AND LARGE SCALE EDITORIAL DIGITAL SCREENS WERE DESIGNED TO BRING MOVEMENT INTO THE SPACE.